Improve your email marketing strategy using Recommend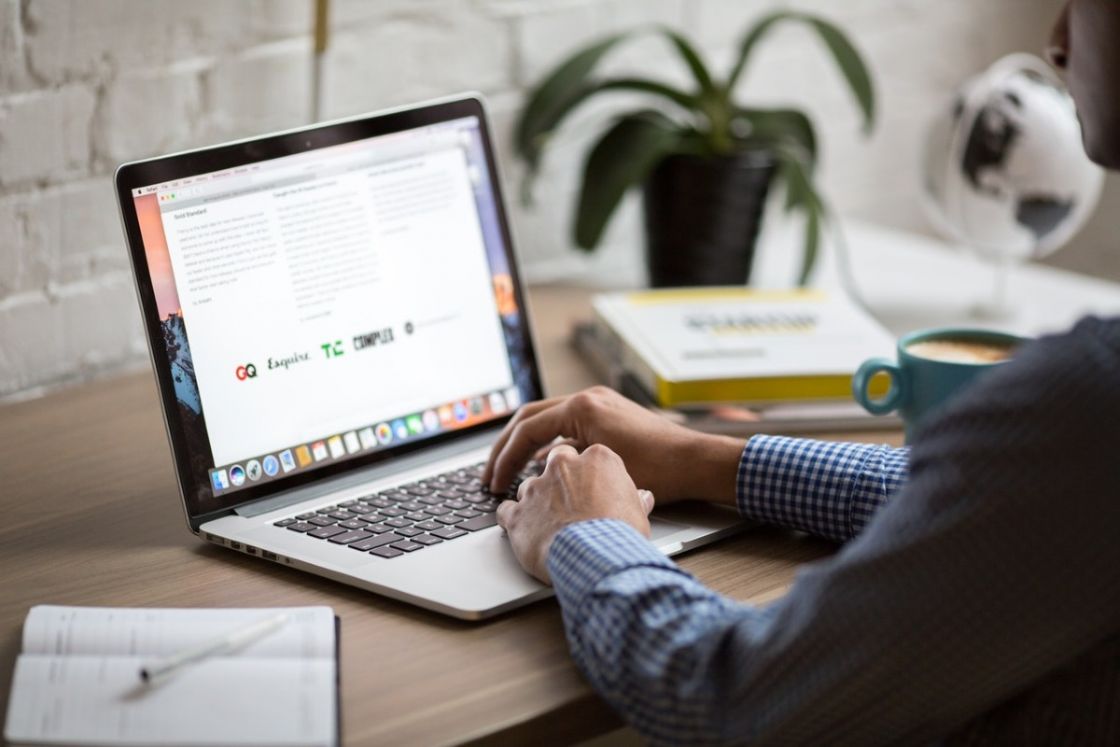 Posted 22nd March 2021, by Cherry Adam
Email marketing is the most effective marketing channel, and for every pound you spend, you can expect a return on your investment of fifty times that amount. The number of emails sent daily is forecast to reach 347 billion by the end of 2023. In fact, email marketing has proven to drive better results than all online marketing strategies, including SEO, PPC, and content marketing. The most cost-effective way to promote your products, communicate with your customers and achieve your business goals.
Besides optimising your e-commerce website and gathering data about your visitors, Recommend also offers the possibility to manage all your marketing communications and streamlining your processes. Our Smart Campaigns and Email & Push Notifications modules let your brand create a communication strategy based on your website's data for a truly personalised experience for your customers and without additional costs or the use of external services providers.
Here are some actions to improve your email marketing strategy and how you can achieve it using Recommend: 
Automate email campaigns when possible
Email automation is one of the most effective tools for connecting with users. Trigger-based emails can generate 4x more revenue and 18x more profit. In recent research, Epsilon discovered:
Trigger email open rates can reach up to 49% (95% higher than traditional email open rates)
The average CTR for activation emails is double the rate of traditional emails
The world's best-converting websites (up to 40% of their traffic) use trigger emails
Above all, automated emails can generate 5x higher open rates and 15x higher CTR. How to do it using Recommend? From transactional messages to promotional campaigns, whatever type of communication you want to send to your users, Recommend offers the tools to do so, thanks to our Smart Campaigns and Email & Push Notifications modules.
For example, you can choose campaign type, audience segment, and subject (including emojis). You can also have the option to preview your campaign on different platforms before scheduling or sending it. Personalise your push messages and emails using other variables (for example, the recipient's first and last name).
Personalise your messages
Successfully applied personalisation means using customer data to create a message tailored to that user's specific needs. In fact, personalised emails offer 6x higher transaction rates. However, 70% of brands do not use personalisation within their email marketing strategy or don't do it correctly. What can Recommend does for your brand?
Interactive template generator
Recommend has an interactive email editor (drag and drop). This feature includes an extensive set of content blocks to use. From images, call-to-action, text, and even the ability to insert product recommendations.
Push notification editor
In our push notifications editor, you can set the language according to your users' device language and add images (GIFs supported). Also, you have the possibility to preview the push on desktop and mobile. Additionally, your team can access a media library where you can store all types of media files.
Choose your customers' preferred channel
Based on your customers' interaction with your communications, Recommend allows you to choose from which channel to send your messages. If a segment interacts better with push notifications, you can select this channel as the preferred one. The same goes for emails, depending on each client/channel's activity based on opens and CTR.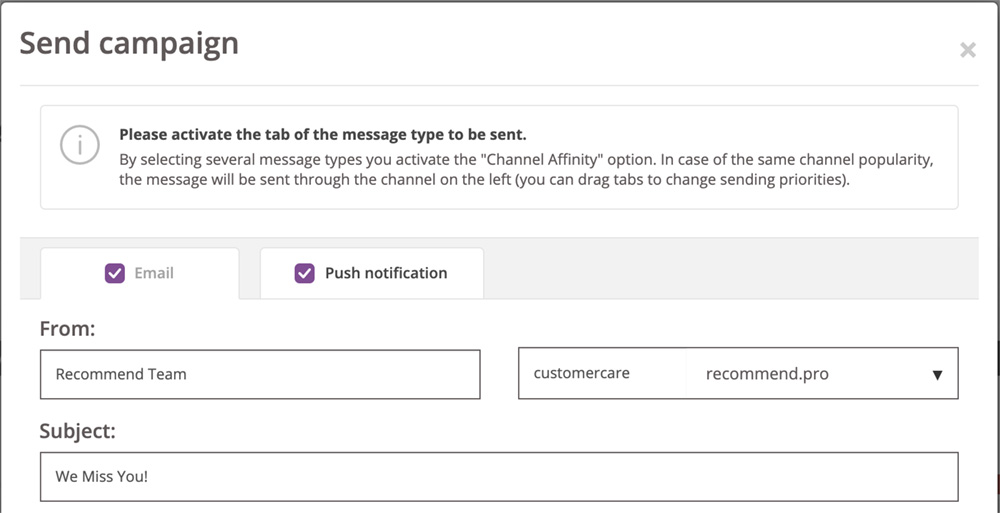 Segment your subscribers
When you segment your database, your email campaigns are more effective – you get better open rates, revenue, transactions, and more leads. A segmented email campaign can get up to a 94% open rate and a 38% click-through rate. Our latest update lets you take user targeting to the next level:
Create custom rules and use them for segmentation
This allows a company to enter its metrics and use them. You can combine customer segmentation with necessary calculations based on frequency, order date, number of orders, average purchase frequency, etc.
Create a segment from another segment
You can create a new segment based on a previous one, adding new rules and filters. For example, you have a static list with VIP customers, and you need to send an update to those who have not purchased in the last year.
Transactional segmentation
This complex new rule allows you to search for customers who have (or not) placed orders. For example, select customers who bought during specific periods with a particular order value, while the total order value is more than a set.
Use the email client and activity as criteria for targeting
The segment could be created based on the email client used by a customer (Gmail, Outlook, etc.), allowing you to customise the template to display correctly according to the provider you choose to use to open the email.

Send emails optimised for mobile devices
In the last year alone, the number of emails opened on mobile devices reached 60%. Email revenue on mobile devices is 4x higher than desktop, and at least 55% of mobile users have completed a purchase after opening a promotional email.
Optimisation with "Heat Map"
Whether you're testing your home page, landing pages, or email templates, it provides you with data to help you make practical decisions. Our feature called "Click Map" or "Heat Map", will provide your team with information to know what content is more relevant to your customers. This feature shows the areas that receive the most clicks. This will also allow marketers and content creators to define the best position for a banner, a call to action button, the best colour, copy, among other details.
In conclusion
Achieving good results from your email marketing campaigns is a matter of data and personalisation. However, implementing a good strategy is more than testing tactics. It is about understanding your users and translate their needs into relevant transactional and marketing communications. The advantage of using a solution like Recommend is not only the optimisation of your e-commerce website to provide a great shopping experience for your visitors but also to use the data gathered and analysed by our platform to communicate effectively with your customers and attract new prospects.
Interested? Request a demo by clicking the button below: