How Push Notifications can improve your Checkout Rates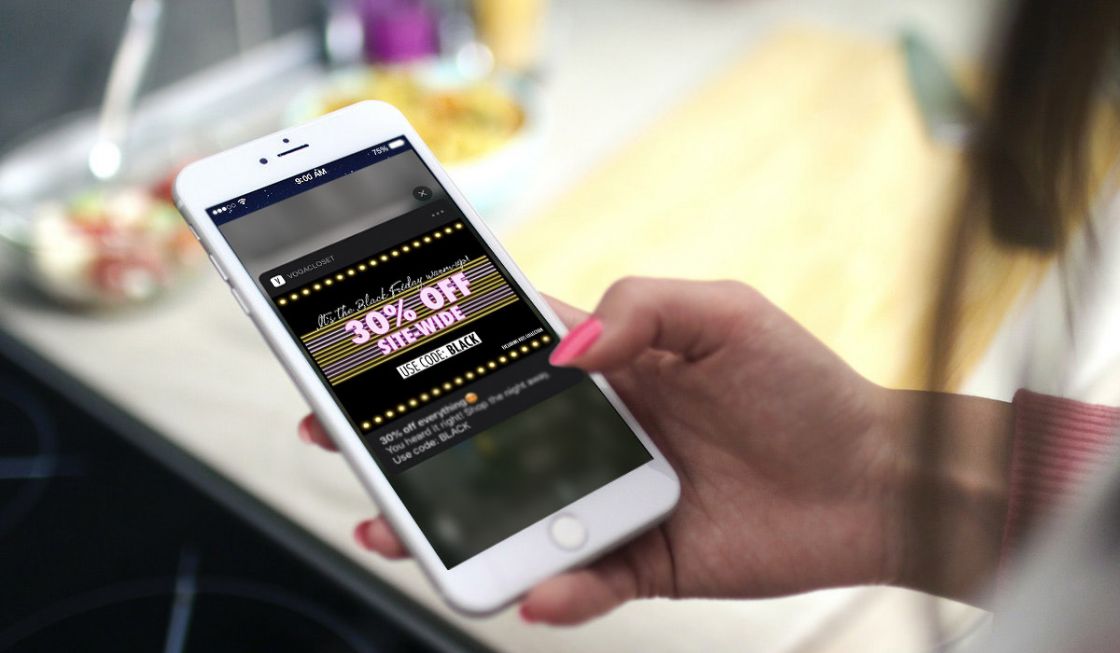 Posted 11th August 2020, by Guest Editor
Last year, 42% of the time spent on websites came from mobile, not far behind the desktop. According to Broadband Search, and their latest 2020 data, 90% of the time people spend on mobile devices is using apps, and engagement is up to four times better than mobile web browsers.
This is quite significant when it comes to push notifications. According to GIST,"The beauty of a push notification? Users will receive the notification on their devices even if they are logged out of your app."
Why you should use Push Notifications
Take your Push Notifications to the next level
Boost your push notifications action plan, and enhance your marketing communications strategy with the following actions:
RECOMMEND
Customers are more likely to complete a purchase if they receive personalised push notifications. Consumers crave a unique message that makes them feel they are directly talked to, instead of treated like just a segment of a potential sale. With Recommend, personalisation is easy to do. Recommend gives you the ability to manage all your marketing communications from newsletters to promotional campaigns via email and push notifications. 
90% delivery rate and a 50% higher opening rate than email
93% retention rate with segmentation
It's instant, and messages are delivered directly to the customer's smartphone.
Easy to use and manage.
Our push notifications work as native notifications on Chrome and Firefox. No additional mobile app required. 
Analyse the results of your push notifications campaigns directly on the platform.
Read the full eBook to get more information on Recommend's push notifications here.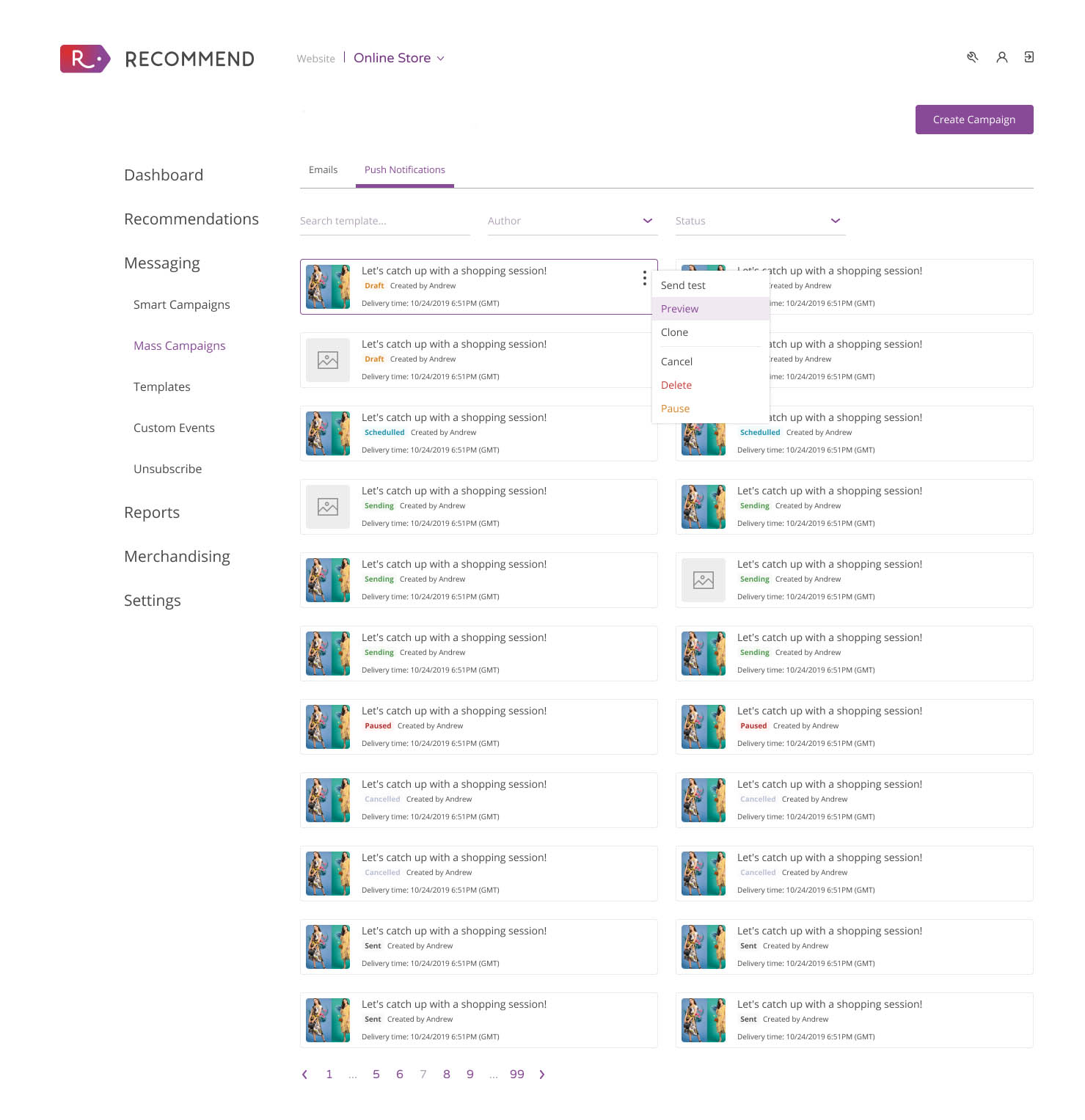 Provide a great user experience and add value to your customers
When a user opts-in for push notifications, they expect to receive alerts that will provide meaningful information and value. If your notifications are spammy and irrelevant, you are risking losing that potential customer. Push notifications should provide additional value to your business proposition, and it should include special offers, exclusive access, company updates, products back in stock, and even personalised messages such as birthdays or subscription's anniversaries.
Geo-Targeting
Push notifications and geo-targeting are a great match. Geo-targeting is based on the user's current location, and as a result, provides personalised, value-filled notifications. Foursquare is a great example of a simple yet effective geo-targeting push notification. The use of emojis increases the opening rate by up to 85% and ads a touch of creativity that the user will appreciate. Foursquare also includes the customer's name.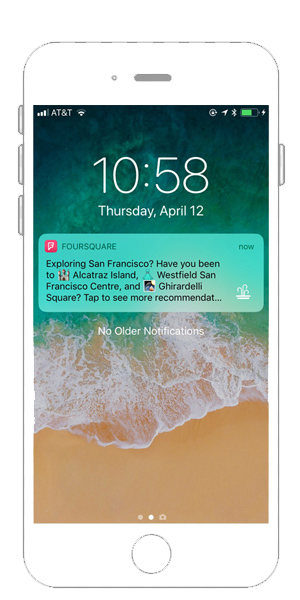 Think about your tone of voice
Apart from personalisation, it is also important to think about how you are planning to convey your message. Striking the right tone can make or break your notifications. The critical thing to remember is to stay true to your brand, but also have fun with your messaging. There is nothing better than bringing a smile to your customer's face.
It's all about being omnichannel
Push notifications are also a great way to support your omnichannel strategy and bring customers back to your website or your social media platforms. For example, a sale campaign on your social media channels can also be advertised using push notifications. Provide the user with a great experience by removing barriers between the push and the checkout page. Let your users tap the message to go directly to your app or website to complete the transaction.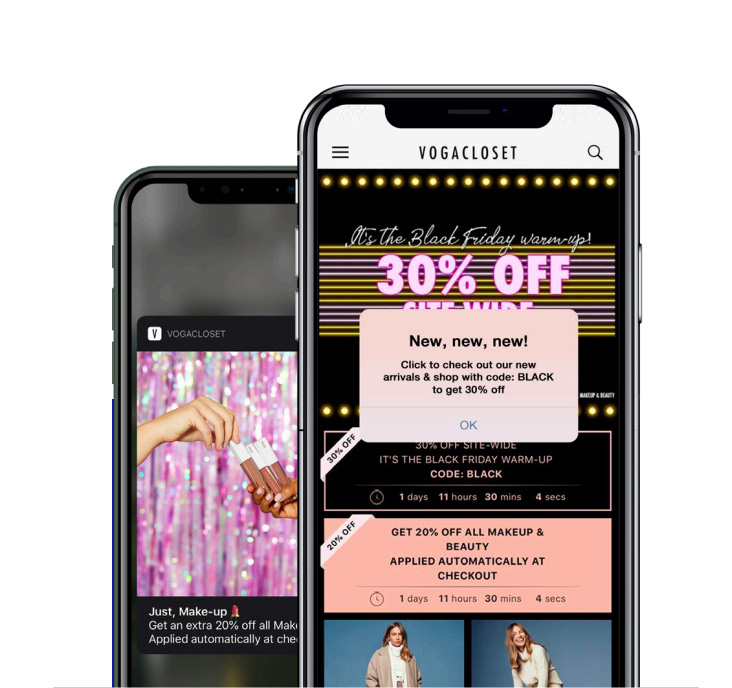 Give your customers the option to Opt-Out
Last year we saw a significant move towards giving customers control over their data and privacy. One of the most important parts of your push notifications strategy should be giving the user a choice. At all times, just like an email marketing campaign, the customer should have an option to opt-out if they wish to do so. Whatever your push notification plan is, always keep your customers involved.