These are the email marketing trends for 2020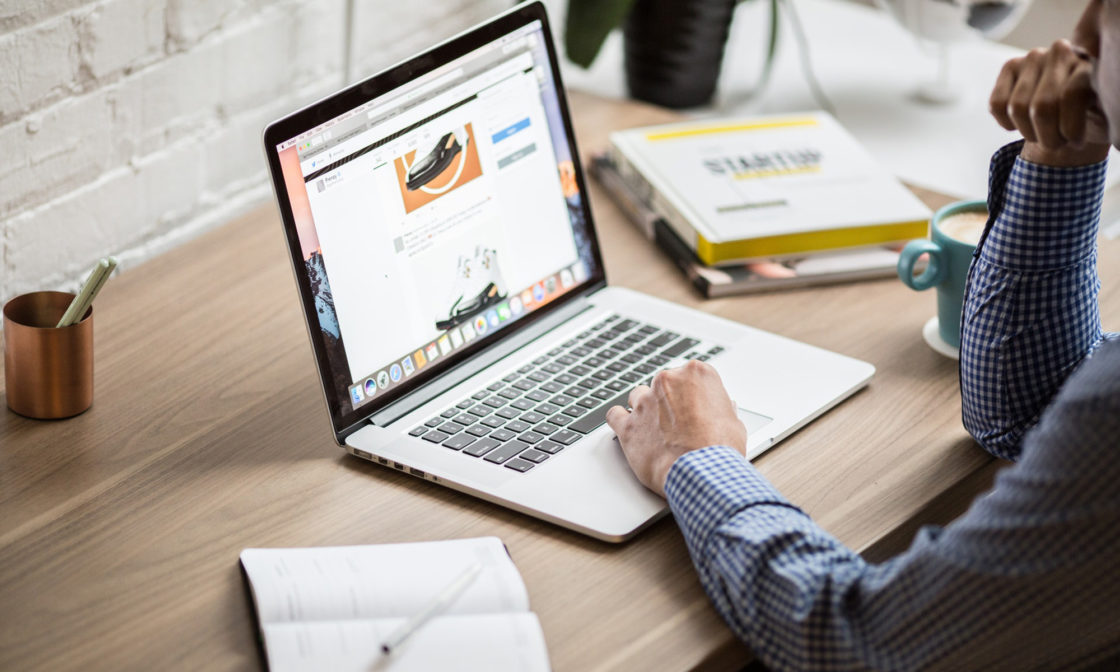 Posted 30th December 2019, by Cherry Adam
In 2010, Sheryl Sandberg of Facebook stated that "it was the end of email". Ten years later, it has been proved as a hasty and denied conclusion. Email is one of the most effective and flexible marketing tools in the last decade. Besides being able to adapt and move to the rhythm of technological innovations.
Marketo has estimated that checking emails occupy the number 1 position among the activities carried out by 94% of Internet users. It is estimated that in 2020 about 247 billion electronic messages were sent and that by next year the figure will reach 307 billion. To summarise, email marketing is more relevant than ever. Let's take a look at the trends for this year:
1) Hyper-personalised automation
The one-fit-for-all strategy should disappear from your marketing plan in 2020. Personalisation is here to stay and users expect brands to address them individually. The use of personalisation platforms such as Recommend, powered by AI, is the ace under the sleeve of any marketing department.
Why is that? Behavioural data, including browsing, purchasing and interest patterns, allow brands to create segments and hyper-customised campaigns. These messages are extremely relevant because they respond to the interests of that particular audience. Segmented electronic messages can generate up to 58% of all revenue.
An example of hyper-personalisation is the cart abandonment emails sent by ASOS. Once the visitor leaves the cart, the automation is activated, sending a personalised email to that person with a special offer based on the products that the user was looking for: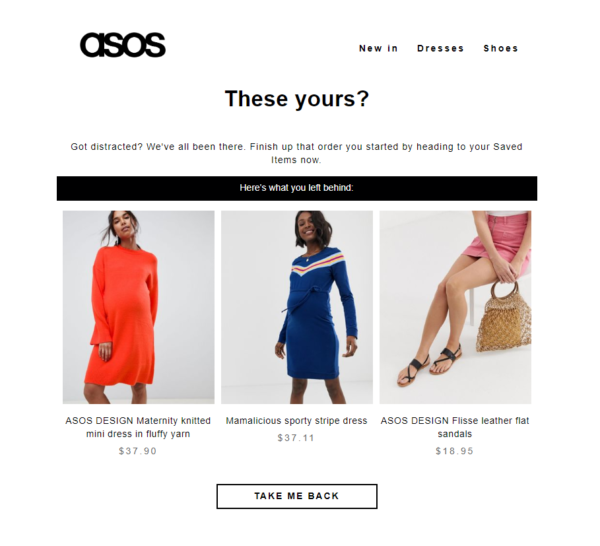 2) Optimise for mobile devices
The behaviour of mobile device users is very different from those who browse from a laptop. Very few brands take this situation into account when it comes to optimising their email marketing campaigns. Not only 61% of emails are opened and read from a mobile phone but about 80% of these users have made an online purchase from their smartphone.
What do we mean to optimise for mobile? It's about going beyond the aesthetic aspect. It is to understand that the screen of a mobile device is much smaller than that of a desktop computer and, therefore, messages, calls to action, buttons and even the payment process, must be adapted to these circumstances. An email created for a mobile device increases its click-through-rate by almost 50%.
3) User-generated content
User-generated content is the most effective form of branding. If a user feels satisfied enough with a product to talk about it and promote it among their contacts, brands should pay more attention to the power that this content has. Incentivising and motivating your consumer to contribute with content via email marketing promotes authenticity, and directly improves engagement and conversion.
82% of consumers believe that content generated by other users, as well as reviews, influence their purchasing decisions. By using this content as part of your email marketing messages, you not only build trust in your brand but also invite other users to be part of the initiative. It is a win-win situation: you have more authentic content to promote your products and your users generate a closer relationship with your brand.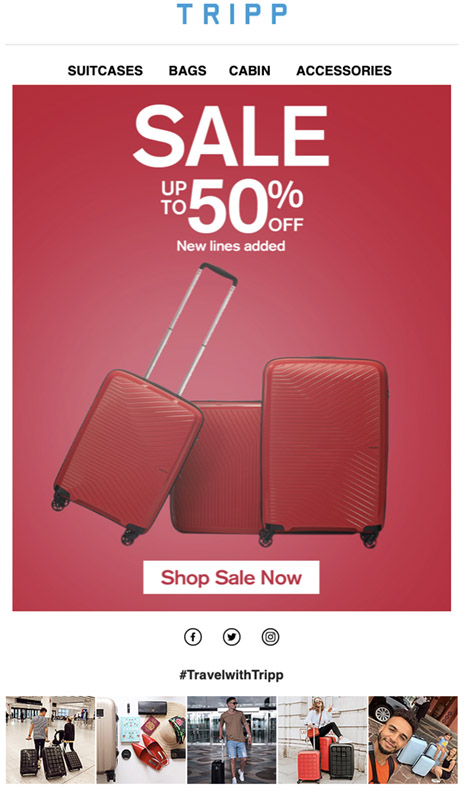 4) Interactivity
It is estimated that by 2020, emails will be received and read from mobile devices. If the message is not optimised to be seen and to take action from a smartphone, the user will likely decide to delete it almost immediately. Interactivity is not just for entertaining, its function is more functional and practical than many believe.
Some of the hottest interactive email elements heading into 2020 include:
Animated buttons and calls-to-action
Rollover effects to showcase product offerings
Interactive image and product carousels controlled by the user
Accordion features designed to make long-form emails more compact
Surveys, polls and user-generated interactive content
5) Social media integration
According to Emarsys, about 42% of the population (3.2 billion users) are on social media. Social networks are a very effective means of connecting with your audience. Also, the use of social networks allows establishing an honest relationship between your brand and its followers, in addition to promoting your products. These channels are the most direct and immediate way to talk with your consumers.
Also, by integrating your social channels into your email marketing campaigns you can increase your reach organically. Internet users use social media as their main source of inspiration and to discover new products. In addition to inviting your subscribers to follow you includes hashtags that allow your brand to be more visible and easy to find. In addition, the alliance with micro-influencers is another good way to publicise your brand in social media. These Internet personalities have a very loyal and captive audience, so working with them is a great way to leverage reviews, and therefore start selling on Instagram.
When brands interact with shoppers on social media, these people spend 20-40% more money to buy from them which means more sales for companies. Thus, combining email marketing and social media is a great way to promote your products, earn customer trust, and get better results.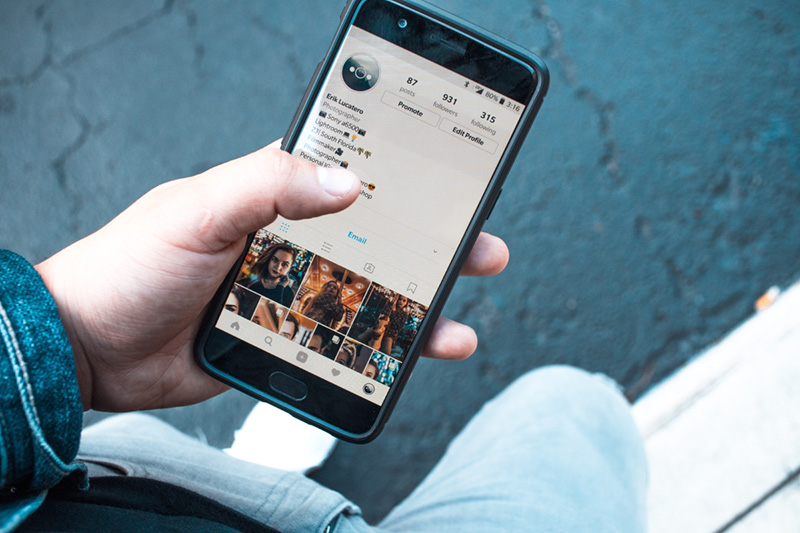 6) Brand storytelling
If personalisation is here to stay, it's because the audience demands authenticity. Not only when responding to their interests but also in the way in which a brand communicates its values. Genuine brands, close and that show their "human" side, have better margins of engagement among their users.
Good brand storytelling is an effective way to gain followers that will interact with your messages and buy your products. However, this goes beyond anecdotes that reflect the values ​​of the brand or displaying a photo of the team. It must be an action that allows for developing an emotional bond. Stories have a great impact on our perception as they are 22x more memorable than facts.
7) Minimalist email design
Although interactivity means including more elements in the body of the email, this does not mean supersaturating the design and the eyes of your users. A simple email with a minimalist design allows the consumer to focus their attention on what is really important: your message. By making it close and transparent, you stay true to your values ​​and reaffirm the confidence in your brand.
The minimalist design also allows:
Optimise email load time
Deliver a polished brand message
Keep a focus on the offer, not the image
When you send minimalist design emails, you gain more customers 'attention to the offer, not the image. As a result, you share a clear brand message with your audience that helps to sell more.