Recommend awarded with 'Rising Star' and 'Premium Usability'
Posted 19th March 2020, by Cherry Adam
We are thrilled to announce that Recommend, our personalisation platform for eCommerce businesses, has been awarded the Rising Star and Premium Usability by the renowned portal FinancesOnline, one of the fastest-growing business apps and software discovery platforms. 
The FinancesOnline team has made an extensive and detailed evaluation of our solution. It has concluded that we are one of the most promising and complete products available. And, that our future in the category of personalisation platforms is up-and-coming. These are great news to start the year, and we appreciate Finances Online for such a great review.
What makes us different?
Recommend is a self-learning platform, powered by the use of artificial intelligence. It lets you automate many of the activities of your eCommerce website to make the shopping experience personal and unique. Our interface is very intuitive and easy-to-use. Thanks to our real-time statistics, our clients can see what pages are their visitors viewing, if they have added products to the shopping cart and from which device they are browsing.
Also, our messaging functionality allows you to set up and send transactional messages. It also gives you the possibility to send your email marketing campaigns, letting you manage everything within the same platform. We have default templates for all your emails and push notifications, as well as the possibility of designing your own. Thanks to our reports section, you can reliably track the results of all your campaigns and adapt your actions, when you need it.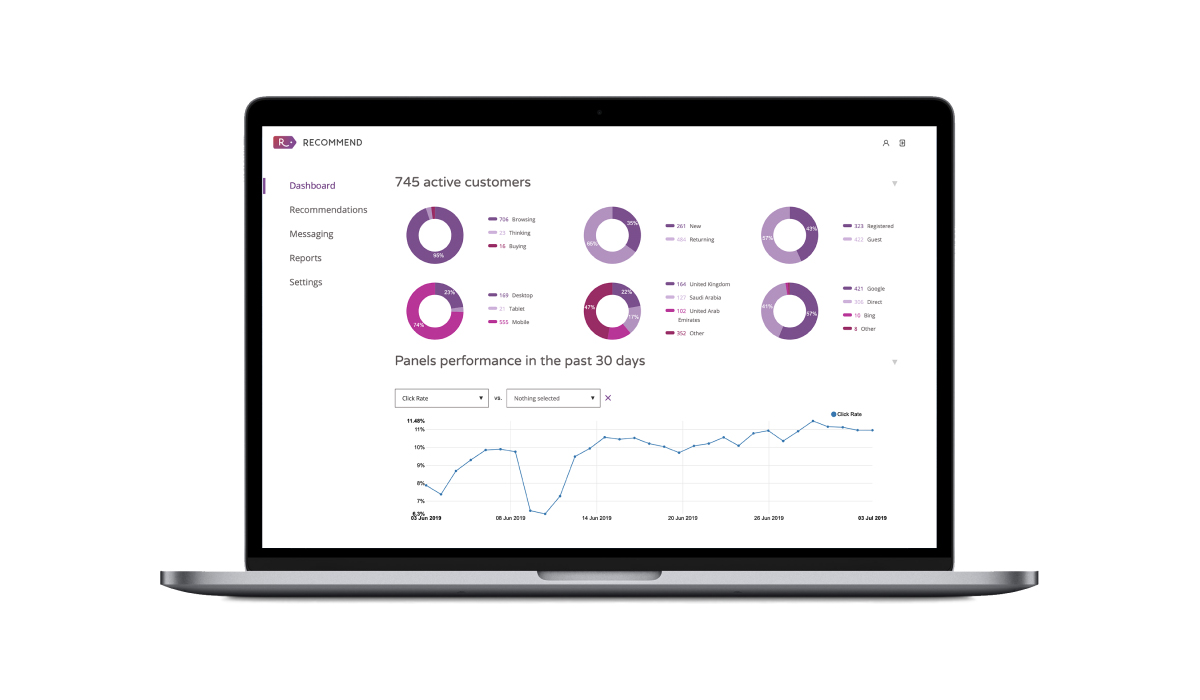 FinancesOnline says it well, "There are trendy and widely used systems in each software group. But are they automatically the best fit for your enterprise's unique requirements? A trendy software application may have thousands of customers, but does it provide what you require? For this reason, do not blindly spend on popular systems. Read at least a few Recommend eCommerce Software reviews and consider the aspects that you want in the software such as the cost, main functionality, available integrations. "
We invite you to visit our profile on FinancesOnline. If you want more information about the possibilities of our platform for your business, don't hesitate and contact us here or sign up for our free trial.