How ASOS utilises AI to suggest your next purchase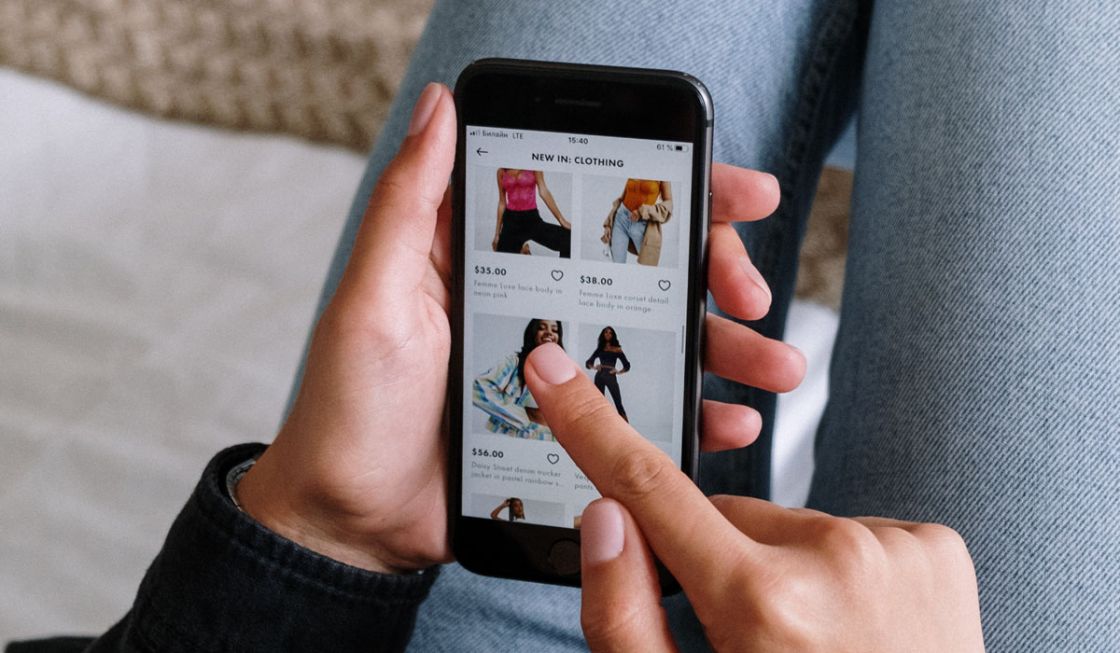 Posted 26th November 2020, by Cherry Adam
ASOS was founded in 2000, by Nick Robertson and Andrew Regan. Since then, it has become one of the most popular and beloved British retailers.
At any moment in time, the e-commerce giant is juggling over 85,000 products, with 5,000 new items being added to their catalogue every week. Over the years, the technology and marketing team at ASOS have developed effective strategies that enable customers to enjoy more than one million unique styles.
Thus, it is no secret that ASOS knows how to use artificial intelligence (AI) to improve their customer experience. It is making the global e-commerce giant one of the top in the world.
For other fashion and beauty retailers, we hope this article inspires marketers to invest in immersive technologies and machine learning as it is imperative to succeed in 2021 and beyond.
ASOS MACHINE LEARNING TECHNOLOGY
For ASOS to make data-driven decisions across thousands of products, a systemic and quantitative characterisation of their products is critical. With an understanding of the fundamental solution outline, we can see how the retailer can forecast consumer personalisation, recommendation, demand and logistics.
The machine learning model is capable of completing an outfit based on a given seed product. "We consider an outfit to be a set of fashion items which match stylistically and can be worn together. For the outfit to work, each item must be compatible with all other items", said Elaine Bettaney, Data Scientist at ASOS.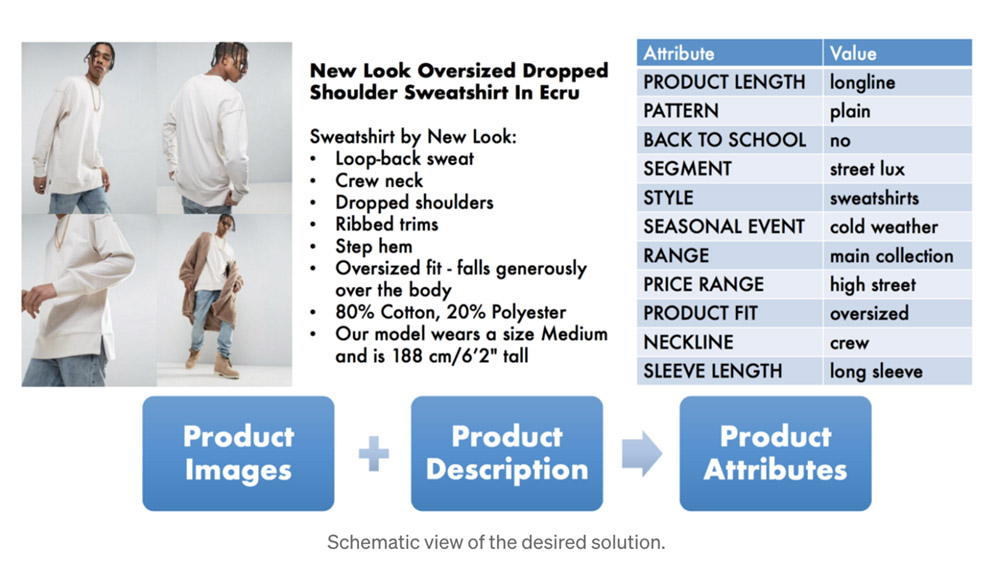 TECHNOLOGY IN ACTION
There are many applications of AI technology within the fashion e-commerce industry. One of the most important for ASOS, however, is personalisation for the consumer, through product recommendations.
A PERSONALISED SHOPPING JOURNEY
ASOS' recommender system is one of the tools they offer customers to help them discover products. According to a recent case study, the retailer's ability to make accurate product recommendations relies on their knowledge of the products in their catalogue.
To understand this further, the technology and marketing team focus their efforts on analysing how customers interact with their products. "The rationale is that, if two products are purchased by the same customers often, they are similar in some way", stated Fabio Daolio, Data Scientist at ASOS.
This customer-product interaction is more commonly known as collaborative filtering. This method has proven to become a compelling way for ASOS to create personalised recommendations.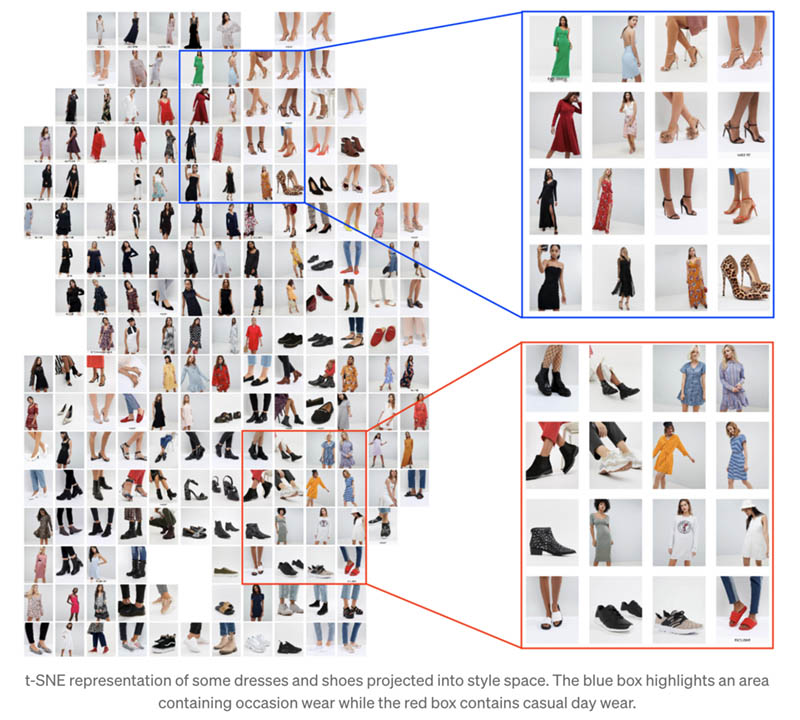 FIT ASSISTANT
In 2018, ASOS launched a new feature called the "Fit Assistant". Initially, this technology worked on selected items on the website and app. The size recommendation suggested come mainly by answering questions about previous purchases.
However, since then, the fit assistant has a more advanced AI technology to help further consumers make an even more informed purchase.
For example, now when shoppers use the feature, they have to answer a series of other questions. These include height, weight, age, hip and waist appearance and preferred fit. This expansion into AI has helped ASOS address a common flaw for many online shoppers, will it fit without trying it on?
After the information is available, the AI immediately suggests the size. Also, it gives you the percentage of other shoppers who responded similarly and which sizes they purchased.
"We want to do all we can to make sure our customers are getting the right size. This is where ASOS Fit Assistant comes in – we can now offer personalised size recommendations across ASOS collections", said Andy Berks, Digital Product Director at ASOS.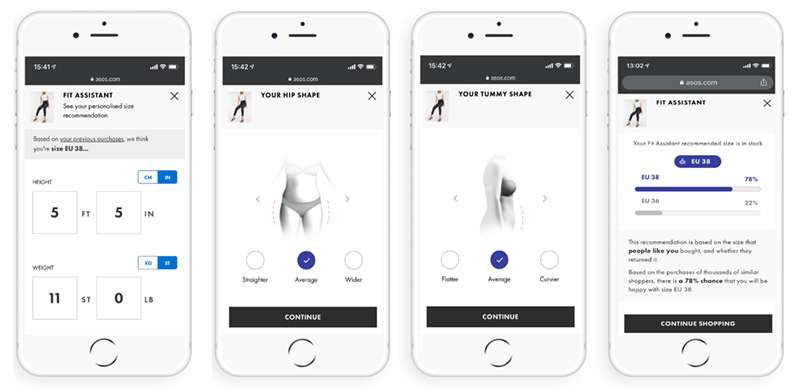 STYLE MATCH
Also in 2018, the UK-based online retailer launched a new search feature for the mobile app, called "Style Match". It's like ASOS' visual search bar. It allows users to search the ASOS database of roughly 85,000 products by merely uploading a reference photo.
To use Style Match on the ASOS app, tap the camera icon in the search bar – from there, you can take a photo or upload one from your photo library. ASOS will instantaneously resurface less expensive and very similar outfit choices.
In fact here is what you need to know about the AI-powered visual search.
BUILT RIGHT INTO THE SEARCH BAR
It might take a second to notice the small camera logo on the app's search bar, but it's there. Once shoppers have identified the camera icon, it is effortless to use, with incredible results. According to Business Insider, the function of the feature is "less of a limitation and more of a very welcome style guru".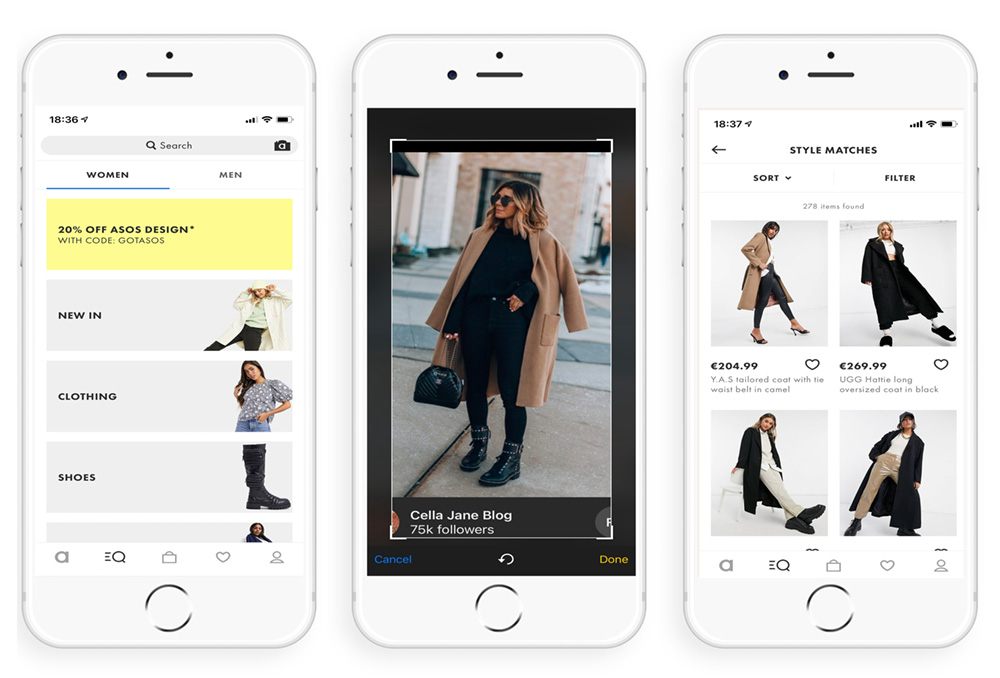 SURPRISINGLY ACCURATE
The AI technology behind this visual search tool is surprisingly accurate at matching the shopper's query with ASOS' products. For example, look at this unique jumpsuit and ASOS' ability to match the colour, and style inspiration of the garment.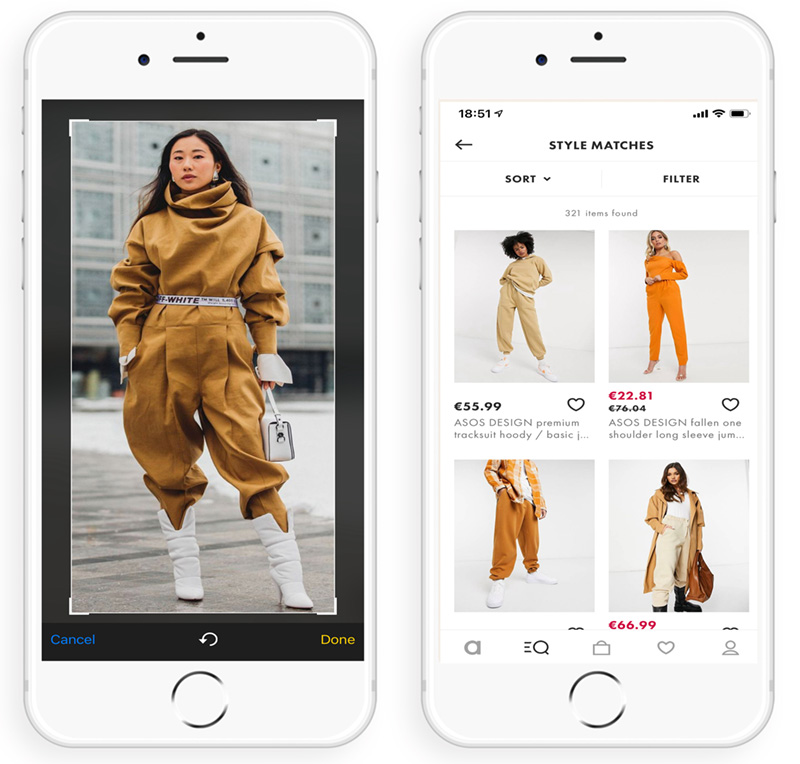 WORKS WITH ACCESSORIES TOO
According to Business Insider, the functionality also has a lot to do with the product's popularity. For example, this Chloé Tess bag became very popular after releasing. Thus, it is more likely that ASOS would have stocked something very similar to it, as a result. However, this still definitely does not impact the reliability of Style Match. But instead, it further proofs just how effective ASOS is at analysing their data and utilising it effectively.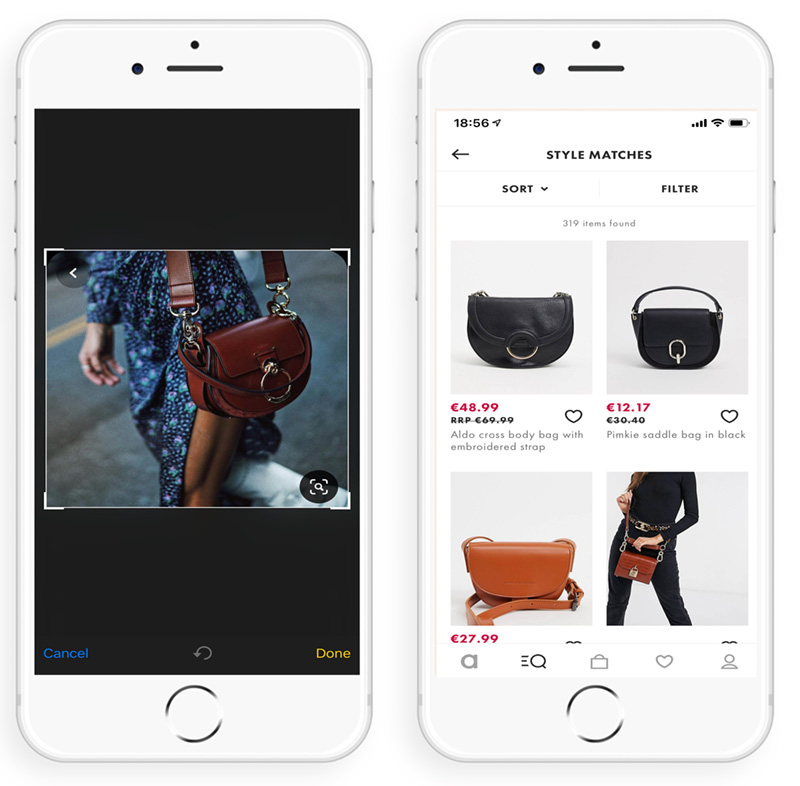 If you would like to learn more about how to harness the power of personalisation and data-driven marketing to increase ROI, then contact us today or register for a free trial.