2020 has been nothing short of surprises, and despite the obstacles, fashion brands have emerged more creative than ever before. Due to the pandemic, cities like London,  Milan and Paris have had to postpone their fashion week shows –one of the first time the events have been cancelled since the 1940s.
However, to survive these unusual times, fashion brands have had to adapt to deliver their collections to the world. Since then, the combination of digital marketing, technology and fashion has sky-rocketed, and some of the most prestigious fashion brands in the world are reshaping the fashion industry thanks to technology.
History of the brand
The first Prada store opened its doors in 1913 in Milan, Italy. Since then, this fashion house is considered one of the most prestigious in the world. In February of this year, Raf Simons was chosen as co-creative director. He is working alongside the brand's head designer, Miuccia Prada (creative director since the 1970s).
This is the first time Prada has named a co-creative director for the brand, in its 107 year history. According to Business Insider, the partnership between Simons and Prada is a "response to a changing fashion landscape; to strengthen and refocus the creativity of the brand".
Digital Fashion Age
Now fast-forward to September 24th, 2020 and Prada's first-ever digital streaming of their SS 2021 show. It took place at 2 p.m CET, across all Prada social media platforms as well as on their website. According to WWD, due to the consequences of the Covid-19 pandemic, digital tools have been helping brands to go global, and Prada is leveraging both physical and virtual ways to present its women's SS 2021 collection.
Apart from digitally streaming their show, clients could also organise private viewings of the collection. Such as viewing kits that can be delivered to the client's home and virtual viewing events taking place in cities including New York, LA, Paris, London, Berlin, Moscow, Istanbul, Seoul, Hong Kong and Tokyo.
As part of Milan's first Digital Fashion Week, we wanted to take a personal look at Prada's new collection and the way technology has played a significant role in the design.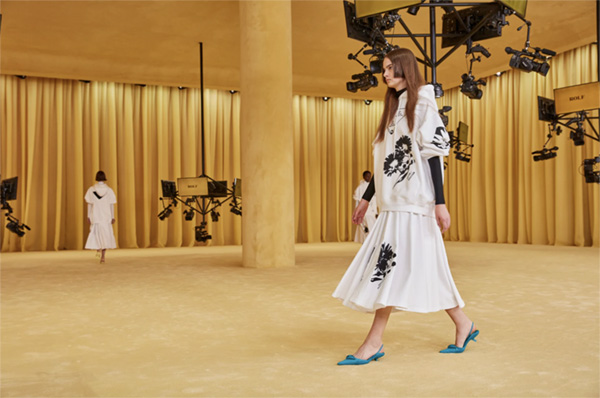 Technologically Innovative
Immediately when the show started, you got a sense of the merging of technology and fashion. The models were walking amongst cameras, and monitors –attached to a 360 moving tripod hung from the ceiling of the stage. The equipment was used to capture the designs from every angle. This backstage feel set-up seemed to convey the digital side of the show quite well.
Again, this allowed capturing the show from all perspectives. Every time a new model entered the stage, the monitors displayed the number of the look and the model's name. This is only something you would usually see backstage. Prada managed to make this a complementing feature to the digital theme.
Prada also played around with some video effects for the show. For example, with almost every look, there were a lot of slow-motion and close-ups. The intention behind it was to capture every single detail from the shoes, clothing, make-up and hair. A truly seamless experience.
The brand's dedication to creating a symbiotic relationship between technology and fashion was palpable. On social media, more than 12k users watched the show. Prada also streamed it on their website. After the fashion show, Miuccia Prada and Raf Simons (the designers behind the collection) sat down for a quick Q&A session.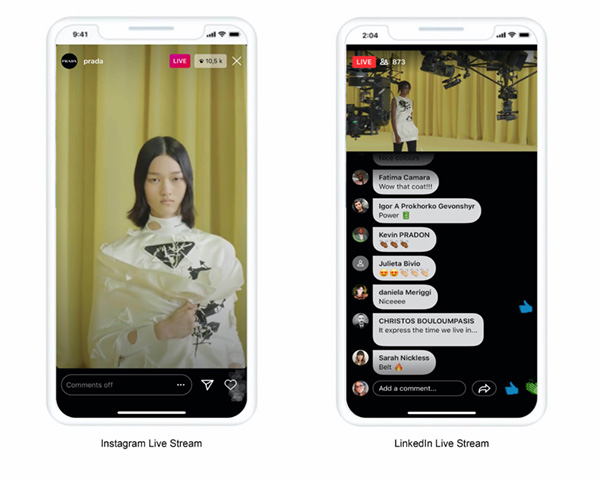 Post-Show Q&A
Miuccia Prada stated, at the beginning of the Q&A, that "despite not having a live audience, the show reached a large number of viewers thanks to technology." Besides, Miuccia also mentioned three interesting aspects:
First of all, the importance of technology, its role as an extension of human beings, and it impacts brands. Secondly, the opportunity to really showcased the clothes and the first show co-designed with Raf Simons. And thirdly, sustainability and inclusivity. This is something that is becoming very important for Prada and other companies.
When someone asked about fashion and technology, Miuccia said: "the marriage of technology and fashion is quite new and revolutionary; fashion is part of portraying what is happening in the world at the moment, and fashion is about reacting to reality."
Following this question, was the turn of Raf Simons. When speaking if it the individual or their collective subconscious expression, Simons answered: "I hope that what I do, that it has impacted other people enough to agree with it, to join it, or to have an interaction with it, so it automatically is collective".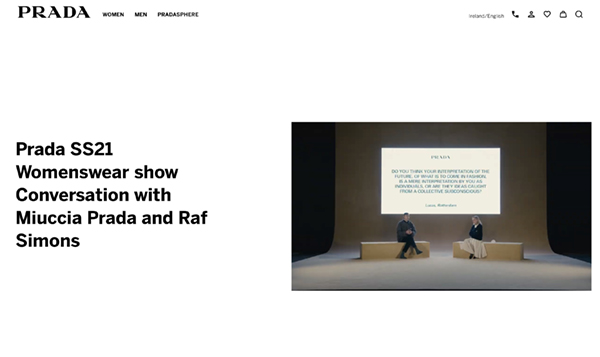 In some sense, Prada has started a new adventure with this fashion show. From joining forces with technology and delivering the first-ever digital streamed show, to also showcasing their first co-designed pieces with Raf Simons. Many other prestigious fashion brands are also joining Milan's Digital Fashion Week like – Dolce & Gabbana, Versace, Tod's, Ermenegildo Zegna and Etro. 2021 is looking like an exciting year for the merging of fashion and technology, so let's watch this space. 
______________
About the author
Aleksandra Michniewicz specialises in copywriting and content creation for companies in a variety of industries like tech, lifestyle, fashion and finance. She manages her own Digital Marketing start-up company Otisable. Find her on LinkedIn.