Pinterest's "Try On" is changing the way to buy beauty products online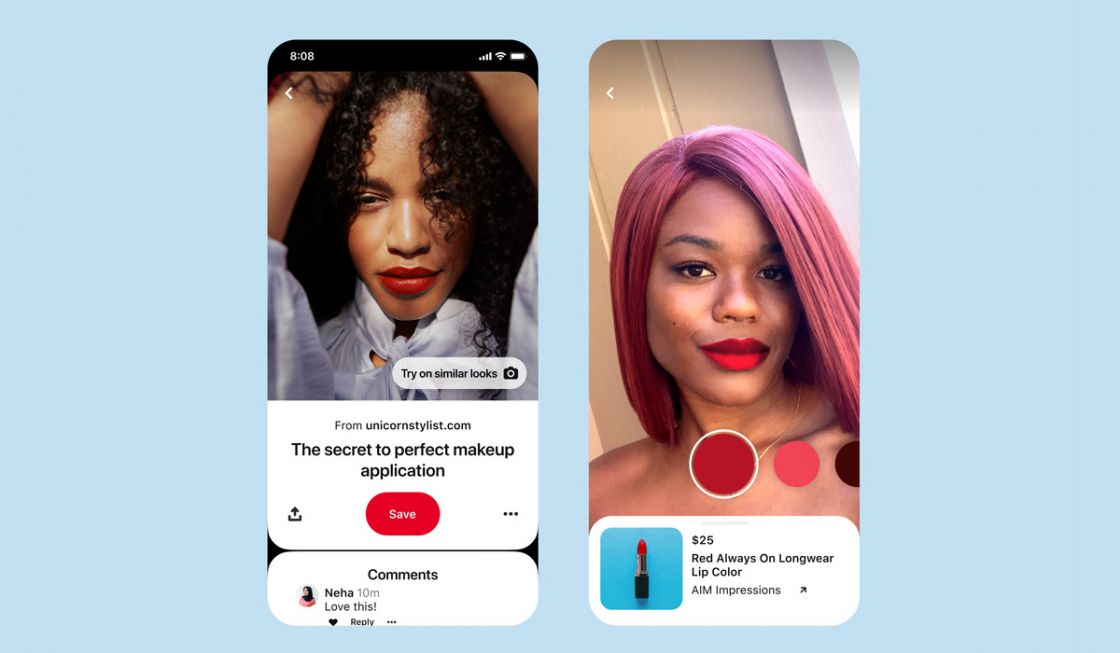 Posted 17th August 2020, by Guest Editor
When you typically look for the social media presence of a brand, you tend to see the most popular contenders. The majority has Instagram, Facebook and Linkedin. Sometimes, some others include Twitter and YouTube, but rarely Pinterest. However, times might be changing especially for beauty and fashion brands, as Pinterest launches Try On, its new augmented reality feature.
According to Adobe, as of 2020, Pinterest is now the 7th most popular social media platform. It was also one of the fastest standalone sites in history to reach 10 million unique users in 2012. Since then, the platform has maintained and grown its audience, with more than 322 million monthly active users worldwide.
Millions of people (with 71% of the user being female) use Pinterest every day to find a new outfit idea, beauty hack or home décor tip. With the launch of the new AR feature, Pinterest is about to become more shoppable for its users. Thanks to a growing set of diverse content, brand choices and the use of immersive technology.
Inclusivity and Personalisation
Pinterest is the ultimate source of inspiration with more than 200 billion Pins to browse through. According to Annie Ta, Pinterest's Product Manager "it's hard to be inspired if you don't feel represented". The main focus of the platform, until the end of 2020, is to make each person's experience more relevant.
Pinterest is becoming a more inclusive place to discover and shop exciting beauty brands. Already brands like NARS, Sephora, bareMinerals, YSL, Urban Decay and many more have collaborated with Pinterest' new feature.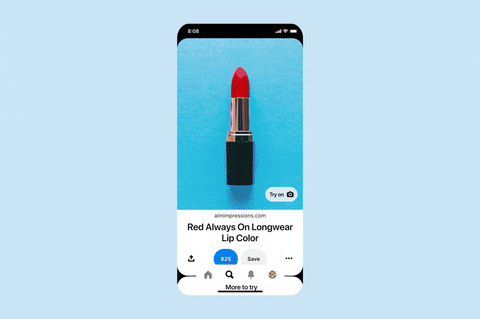 It's all about skin tone detection
Many may be asking why Try On is different from what other beauty brands are doing. It's all down to the skin tone detection possibilities. Pinterest' AR technology can very quickly identify your skin tone, allowing you to choose the lipstick colour that suits you best.
Their augmented reality technology allows for customisation through skin tone ranges. This feature was initially only available in the US. However, after some updates, now is available in the UK, Canada, Ireland, Australia and New Zealand.
According to the Pinterest Newsroom, since the improved skin tone AR technology, the number of beauty and fashion Pins where a skin tone can be identified has quadrupled. Also, compared to previous technology, the new skin tone tech is now 3x as likely to detect multiple skin tone ranges in top search results.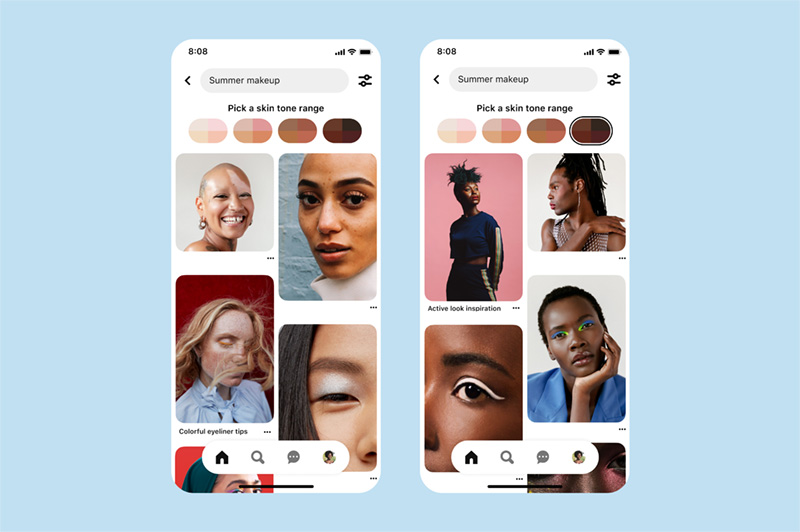 A successful campaign
On 11th of August 2020, the virtual lipstick Try on experience was launched with more than 10,000 shoppable lipstick shades discoverable across 48 million beauty Pins. The easier it is to find the tone you like, the more people are likely to buy it. Pinterest users tend to use the platform early on in their purchase journey.
Since January 2020, and the platform's collaboration with AR, users have tried on average six lipstick shades, and are 5x more likely to show purchase intent on Try on-enabled Pins rather than standard Pins.
The main goal behind the campaign is to commit to diversifying the content on Pinterest. The newest technology improvements will help Pinterest to make shoppable online beauty a more personalised and exclusive experience. As well as help to create a more inclusive algorithmic recommendation in the future.