Leverage Personalisation and Data Privacy
Posted 07th September 2020, by Guest Editor
When it comes to personalisation and customer privacy, it's all about finding the right balance. In today's digital-first marketing world, consumer data is essential, especially when it comes to personalising the consumer purchase journey.
However, data privacy laws are becoming stricter, and some marketers are finding it hard to collect and analyse the data necessary to execute a personalised strategy. On the other hand, when you look at some of the data on consumer personalisation, it shows that customers want personalised communication with the brands they shop.
According to Instapageand their recent research;
44% of consumers say that they will likely become repeat buyers after a personalised shopping experience with a particular company.
Marketers see an average increase of 20% in sales when using personalised experiences.
59% of customers say that personalisation influences their shopping decision.
31% of consumers say they wish their shopping experience were far more personalised than it currently is.
Personalisation and consumer privacy seems like a double edge sword. However, it's not impossible. There are ways in which marketers can leverage a personalised shopping journey for their customers, while also staying true to their customer's privacy preferences.
In this article, we have combined a list of the top 4 ways brands can leverage personalisation without violating privacy.
Finding the right balance between personalisation and privacy
Before we get into our top 4 list, we also need to address the need for personalisation platforms like Recommend. Recommend is a professional and effective way in which marketers can access unique consumer data instantly.
Brands need to be able to anticipate consumers' needs and desires to stay ahead of the competition. With Recommend, eCommerce platforms can move away from seeing their audiences as "Them" to addressing the "You".
Recommend is an excellent tool for marketers who are struggling with data privacy and personalisation as it empowers retailers to understand their audience better, without violating their privacy. The Recommend personalisation platform helps brands deliver a seamless shopping experience while captivating and recognising new and returning visitors.
As an online retailer, it is also vital to provide dynamic cross-selling solutions to your customers, such as identifying products that could satisfy additional needs and recommending complementary products to your customer's purchase. Contact Recommend today and request a free trial.
4 ways how to leverage consumer privacy and personalisation
When it comes to data privacy laws in different countries, some are more restrictive than others. According to recent research conducted by SAS, in countries like the UK and Spain, the new EU Data Protection Regulation requires consent from the customers to collect and process necessary information. In the case of sensitive personal information, explicit consent is required.
As you can see from the graph, Spain', Portugal' and the UK' data privacy laws are one of the stricter in the world. Hence, expectations for effective personalisation might seem lower for most brands and marketers. However, there are some easy strategies that marketers can combine alongside with personalisation platforms like Recommend, to achieve personalisation while abiding privacy laws.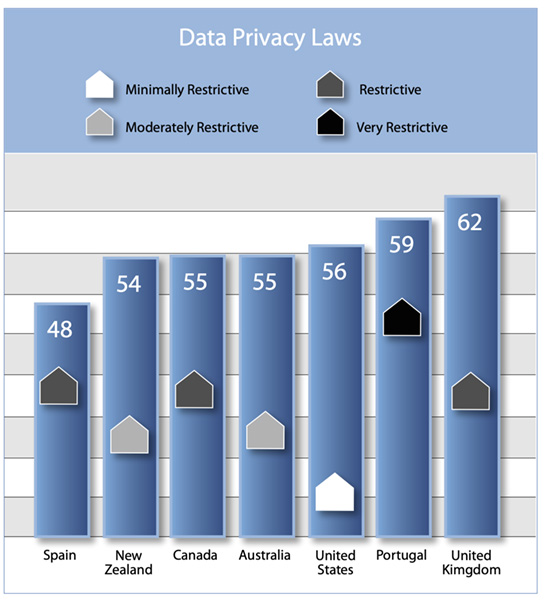 The information trade-off
One of the best ways to approach potential and new customers with data policies is letting them know what are you going to do with it. Like mentioned before in this article, most customers are willing to provide their data, as long as they are informed of how it will be used. This is why having an up-to-date privacy policy on your website is very important.
According to SAS, in the UK, almost 70% of people are willing to share their data with retailers. Further to the research, nearly all consumers are willing to share their name, email address and birthday to get more personalised and relevant offers.
This research shows that information trade-off between the business and consumer is vital. Once the consumer understands how their data is going to be used, they are more likely to consent. As mentioned before, consumers want to receive personalised campaigns, to make their shopping experience more seamless and enjoyable. 
Give to get 
One of the second key influencers is the "give to get" factor. The give to get comes down to customers that are willing to give information if they get something in return. According to SAS, over 49% of customers stated they are eager to share their data if it means they will be getting benefits such as discounts and free merchandise.
The bottom line is, digital marketing is personalisation driven. Most customers want personalised campaigns from the brands they like to shop with. The give to get rule enables brands to consensually make customers aware of offers, based on what they have previously searched for or purchased.
Learn to balance creativity and technology
A marketing campaign won't be effective unless your social media and email are focused on the right audience. Apart from collecting and analysing consumer data yourself. Social media networks such as Instagram and Facebook can also provide brands with lots of useful information, and they don't require customer consent. Social media statistics are good at collecting customer impressions on your brand's content. From this, marketers can create effective campaigns based on users' engagements like dislikes, likes, comments and shares.
Buyer Persona
Most brands have access to primary data touchpoints, such as contact and behavioural data. This type of data is available from past purchases, delivery information and brand engagements. The information you have gathered through your preferred marketing channels should help you create complete customer profiles. These profiles can then be used to provide a more personalised shopping journey. Each customer segment should be able to give you some guidance on customer preferences, such as likes, dislikes and favourite purchases.
Overall, there are many different ways in which brands can achieve personalisation. The average consumer sees hundreds, if not thousands, of marketing messages every day. This is why personalisation platforms like Recommend and simple strategies, can elevate your brands' personalisation tactics. As seen from various studies, consumers expect more from brands. Hence, brands should be able to distinguish themselves from their competition and provide personalised offerings and communications.