5 ways to increase checkout conversion rate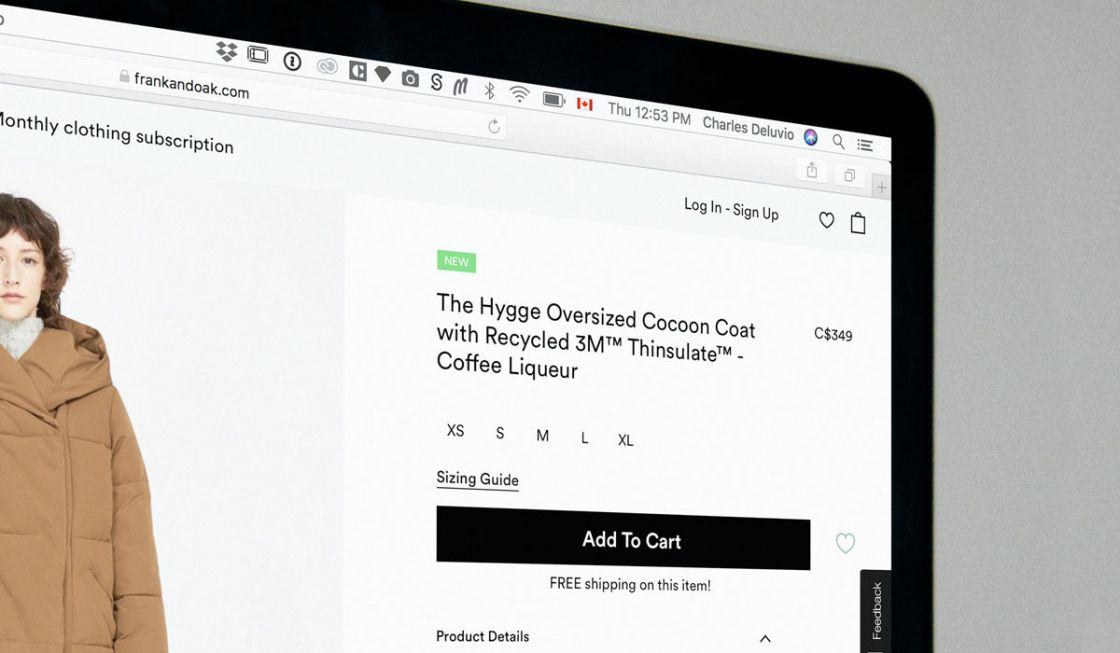 Posted 28th May 2020, by Guest Editor
According to a recent study done by the Baymard Institute, the average cart abandonment rate across industries is up to 70%. This means that out of every ten shoppers, seven won't complete their purchases. Cart abandonment is one of the most significant issues that e-commerce and online retailers face every day. Checkout pages are pivotal when it comes to bringing the revenue for the business. And as much as a 1% increase in conversion rates can add thousands of pounds in revenue to the company.
Why consumers abandon their shopping carts?
In this article, we will focus on five ways companies can reduce their cart abandonment rates. But first, it is essential to understand why customers abandon their shopping cart in the first place? 
According to Business Insider, the main reasons are due to:
The total price is higher than expected. According to 58% of consumers, this usually happens when VAT and shipping costs are shown at the end.
55% are not ready to complete the purchase. Most customers tend to choose things and put them in their carts and come back to it later.
50% of consumers don't qualify for free shipping because their order is too small.
25% of customers said that their preferred payment option was unavailable (PayPal, Google Checkout, etc.)
A/B testing
There are many different approaches to address some of the issues we mentioned above. But for marketers to understand what works best for them, A/B testing (also known as split testing) is a great tool to analyse website visitors' behaviour.
A/B testing is an optimisation technique –usually used to analyse email marketing campaigns performance– where you can test two versions of the same content with slight differences. This technique helps marketers to understand what is the right approach when it comes to their customers' preferences and behaviours based on their response and interaction with different elements on the campaign or landing page –from the subject line, type of content to the placement of the call-to-action.
Five ways to reduce cart abandonment rates
Get rid of the mandatory sign-up
Ideally, marketers would like to see users signing-up and creating accounts while simultaneously seeing an increase in checkout conversion rates. According to SEO Hacker, a massive 86% of users dislike sign-up forms, and 30% abandon their carts before checkout if they need to sign-up. There are two main ways companies can ensure that a sign-up form does not interfere with the customers' purchase process:
Once the customer has purchased their items and checked-out successfully, send them an automatic sign-up email with their log-in details. This way, the customer doesn't have to go through the process, and it will appreciate the intuitiveness of your site.
Only ask customers if they would like to register by showing the option on the thank you page or in the email sent after the order has been placed. At this stage, the customer has completed a hassle-free purchase and hence, they will be more likely to sign-up in return to follow-up the purchase status.
Emphasise free shipping, free returns and secure payment options 
Customers are more likely to complete their purchase if the company can reinforce that their payment information is secure. By doing so, you will give them the confidence to complete their purchase successfully. Free shipping and free returns can be the turning point for most of the customers.
For example, the skincare brand NuFace saw a massive increase of 90% on purchases by offering free shipping on all orders and placing a banner with this information at the top of the homepage.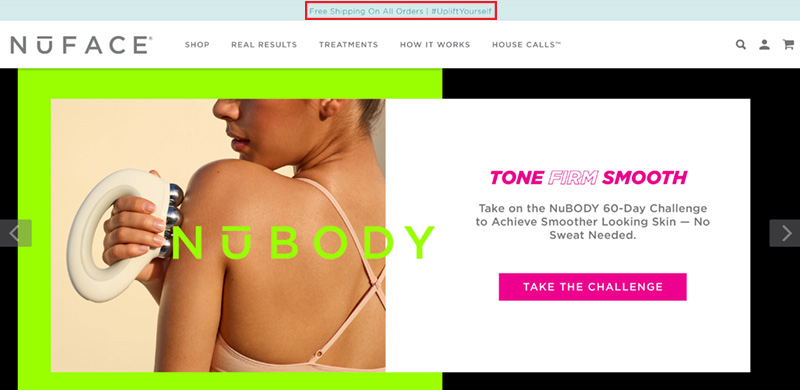 ASOS, on the other hand, goes a step further and advertises free shipping and free returns not only on their homepage but also on the checkout page.

Focus on mobile optimisation
According to bankmycell, there are 3.5 billion smartphone users in the world (over 45% of the world's population). In the UK, smartphones are the primary device that generated the largest share of the revenue for m-commerce. It is clear that mobile is the default shopping platform for a large percentage of consumers, and marketers should focus on optimising their e-commerce sites to these devices:
Ensure navigation across the mobile site is easy and not overly complicated
Remove any multi-step checkout processes that are slowing down the mobile site
Minimise the use of images and videos to speed up the website loading time
Allow payment options such as Apple Pay and Google Checkout
Optimise your checkout page
The shopping experience is not a static process. Users are continually browsing and going in and out of their shopping carts –whether it is to check something else or to make sure they chose the right size or colour. This is why e-commerce brands need to make sure their shopping cart is optimised to respond to this behaviour.
ASOS is an excellent example of a highly responsive and optimised shopping cart page. Whenever a customer adds another item to the shopping cart, a basket drop-down appears showing all the products in it and the total price. It also includes a banner that reminds customers of the free worldwide delivery service. This drop-down feature works in all devices.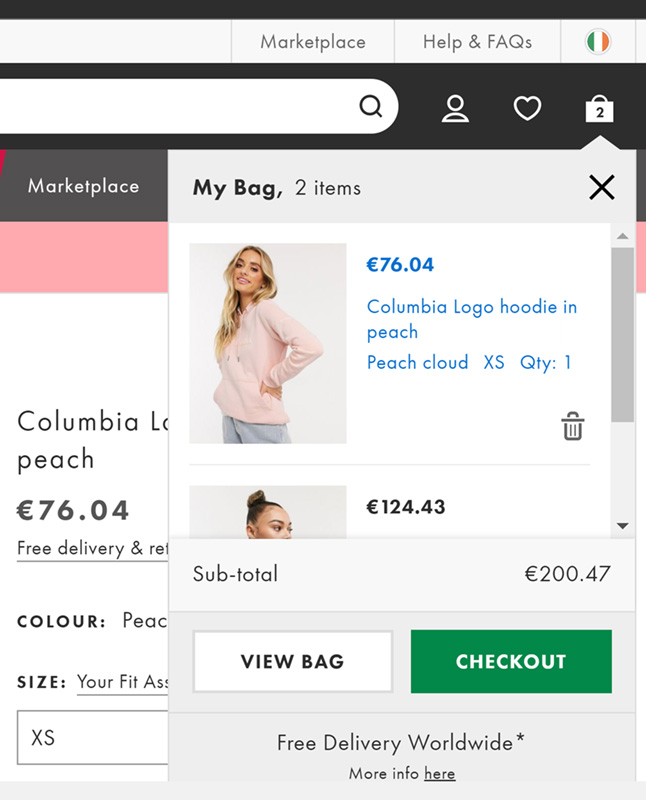 REVOLVE is another online fashion retailer that offers a highly optimised shopping cart. When a customer adds an item, a pop-up appears with the product details. It also shows product recommendations to complete the look, and by doing so, it raises the option to do cross-selling and increase the order value.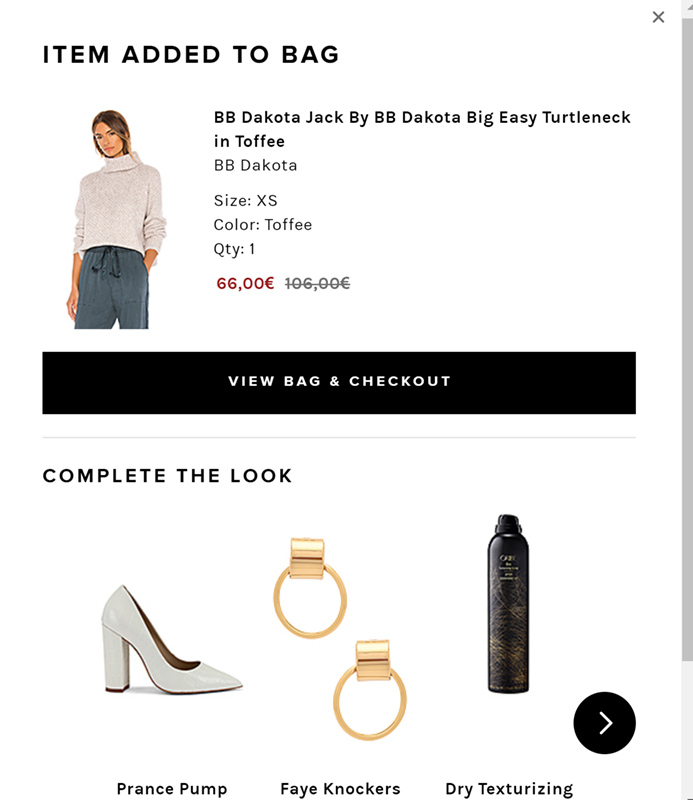 Smart Retargeting
According to Usability Geek, the average conversion rate for eCommerce sites globally is 3%. This means that for every 100 customers, 97 abandon their carts.
One of the reasons is poor retargeting techniques. Bringing back these customers is cheaper than acquiring new users. These users already know your brand and your product offering, all they need is a nudge in the right direction to encourage them to complete their purchase. There are two main retargeting techniques that companies can use to reduce their cart abandonment rates:
Smart advertising includes using personalisation platforms to track customers' data and browsing behaviour to be able to identify non-purchasing visitors across the web. Use this information to target specific customers across your channels.
By using a personalisation platform and all the data gathered, you can send hyper-personalised email marketing campaigns and transactional messages. For example, Recommend has the option to send emails and push notifications after users abandon their shopping cart.
Across the UK, cart abandonment is costing e-commerce retailers as much as £18 billion per year. However, there are ways in which marketers can reduce it while increasing checkout conversion rates. By implementing these techniques as a part of your marketing strategy, you will start to see improvements within time. However, real personalisation only can happen by providing a unique and intuitive experience for your customers. Register for our free trial or request a demo.