Genderless Fashion and Sustainability – Trends for 2021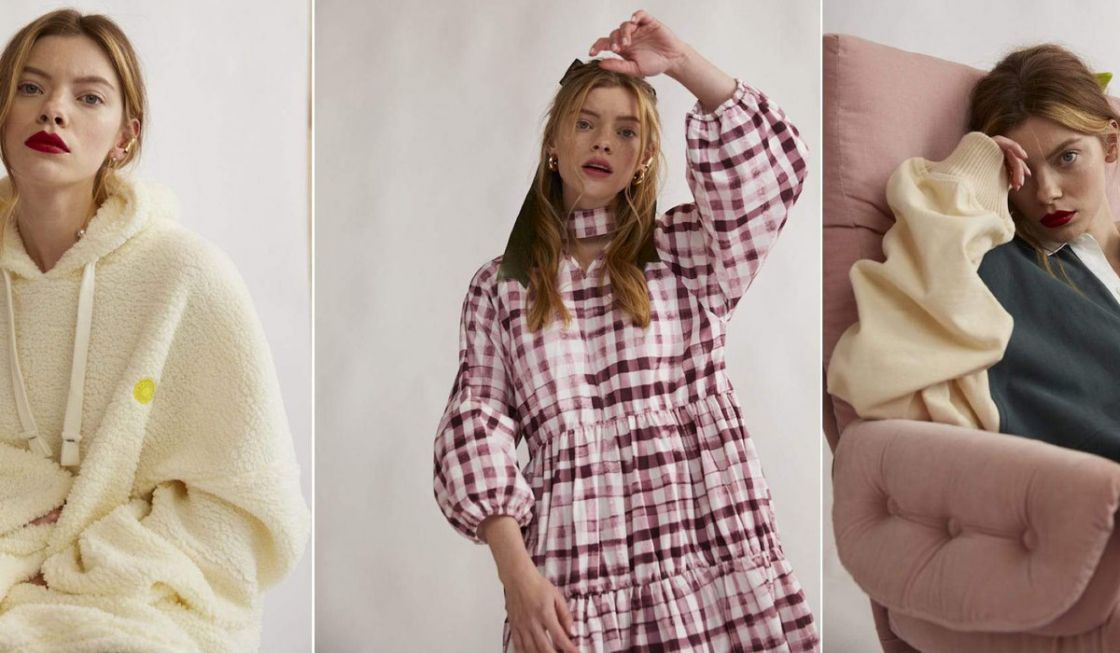 Posted 03rd November 2020, by Cherry Adam
To understand the opportunities in activewear for 2021 and beyond, let's first look at a few statistics. As a result of Covid19, consumer spending has radically changed in the last few months. However, home gym equipment sales have increased by a staggering 5,800% in the UK between March and July.
Additionally, according to Euromonitor, activewear sales are forecasted to grow by 6.1% next year. Activewear is outperforming every other apparel category. A massive opportunity exists in this active space alongside with the fact that consumer behaviours are changing. According to PWC, 43% of global consumers expect businesses to be accountable for their environmental impact. Likewise with sustainability comes genderless fashion for 2021.
To understand how sustainable and unisex garments are leading the way in fashion, we joined this years' Stylus Trends Intelligence Summit, where Emily Gordon-Smith, the Director of Consumer Product at Stylus took us through an ethical and wearable emphasis in activewear.
Decoding Genderless Fashion
More and more, we are seeing the blurring lines between the female and male fashion. Activewear is playing a crucial part in this movement. One example is the collaboration between leading sports brand The North Face and prestigious fashion brand Comme des Garcons.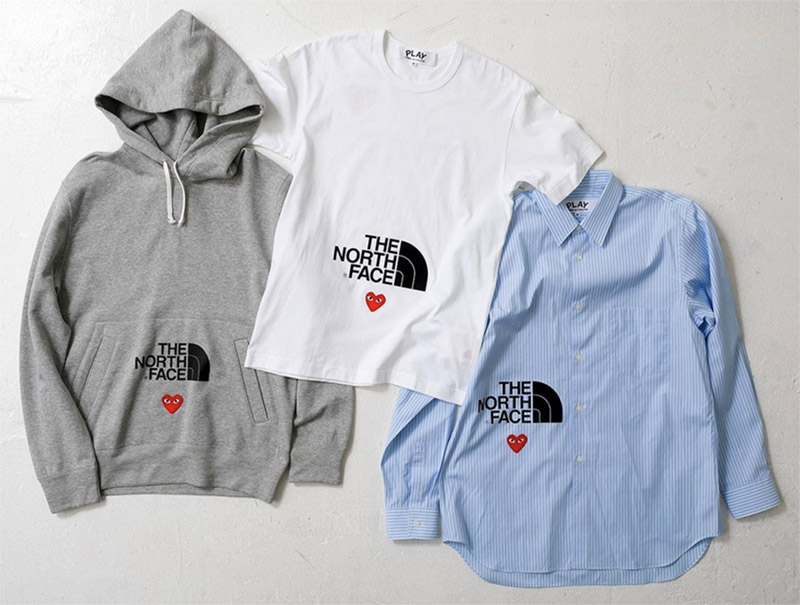 For their 2017 collection, both brands were already pushing the boundaries in genderless fashion, with their recognisable yellow varsity jacket, worn by male and female models. Now fast forward to 2020, and their capsule collection debut, where the CdG Heart meets the TNF Half Dome. The collection is casual activewear, wearable for anyone.
Also, recently designers have been able to finesse the function into something quite elegant. UK luxury British brand,  A Cold Wall and Converse collaboration is pushing the minimal white on white palette. The collection is inspired by sharp edges of city streets and architecture, making the shoe wearable for all urbanites.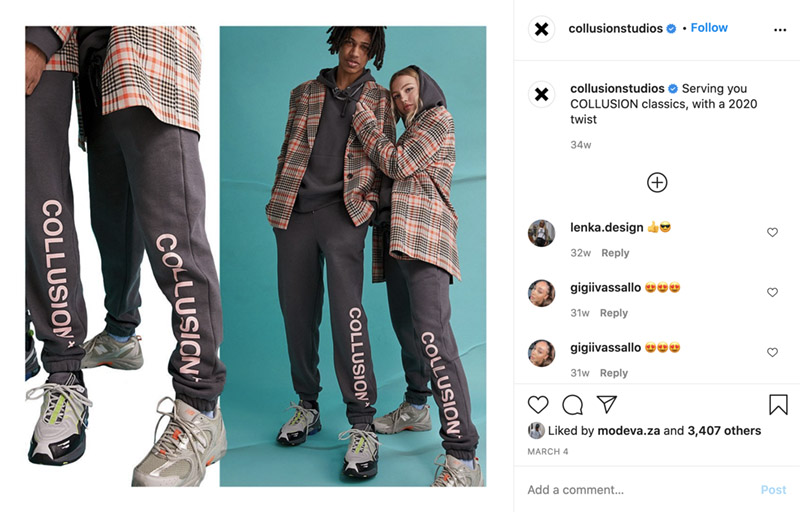 Inclusivity in apparel wear is also evolving with Collusion. Known as the brand "for the coming of age" it's entirely built for comfort and often enough create gender-neutral collections, in favour of unisex looks.
To understand how gender-neutral clothing is environmentally friendly and sustainable, we need to look at the different design techniques for these garments. This brings us to the next topic, sustainable design techniques.
Sustainable Design Techniques
This trend is all about materials. Considering the growing consumer awareness around sustainability, choosing ethical fabrics is a must for fashion brands. Designers have plenty of choices, as there are many different fabric options available. From hemp, organic cotton to virgin yarn, the list is endless.
For example, UK-based Damson Madder, a brand that believes you shouldn't have to choose between your wardrobe and the environment, use 100% organic cotton and recycled yarn. The materials are dyed with natural and sustainable pigments derived from clay, olive leaf, indigo ferra and rubia tinctorum.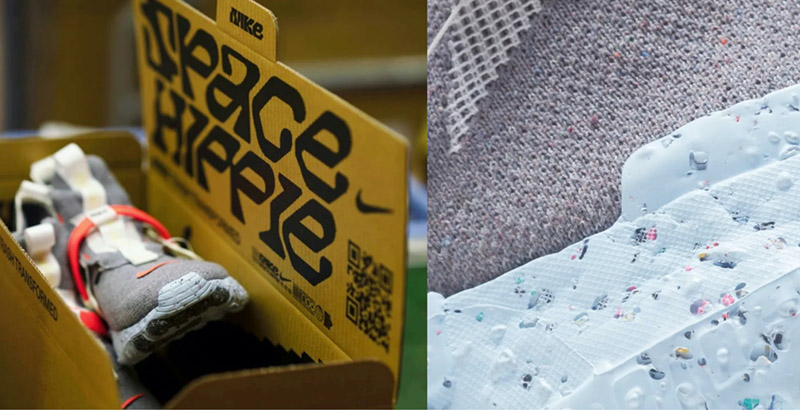 Using what is already available is crucial for brands to go green. It's all about recycling and reclaiming as well as upcycling. The sustainability movement wouldn't be complete without the Nike Space Hippie Trainer, which are entirely created from scraps of waste, showing off the thrifty eco-conscious look. But the trainer isn't the only eco-conscious design. Nike has also decided to ditch the double box to deliver the shoes in a single shoebox made from re-purposed material and printed on with plant-based ink.
However, if brands choose to use virgin materials, they need to be sustainable and not harmful. Thus, hemp is another plant that ticks all of the boxes, which brings us to Nike again, who recently collaborated with Stüssy on their "Fossil Stone" hemp sneakers.
Sustainable Dyeing Techniques
Another exciting trend in the sustainability front is colour. For 2021 it is all about living colour, which is colour that is life-affirming in its celebration of nature. It looks like significant activewear brands are investing a lot of time and resources to develop new sustainable dying techniques.
The US-based activewear brand Puma recently launched a colour and nature-inspired collection. The collection is branded "Living Colour", and it explores alternatives to synthetic textile dyes. Instead, the design team used naturally occurring bacteria that produce pigments. The colours fade and morph. All the pieces are bio-degradable, as well as made only on demand to reduce waste.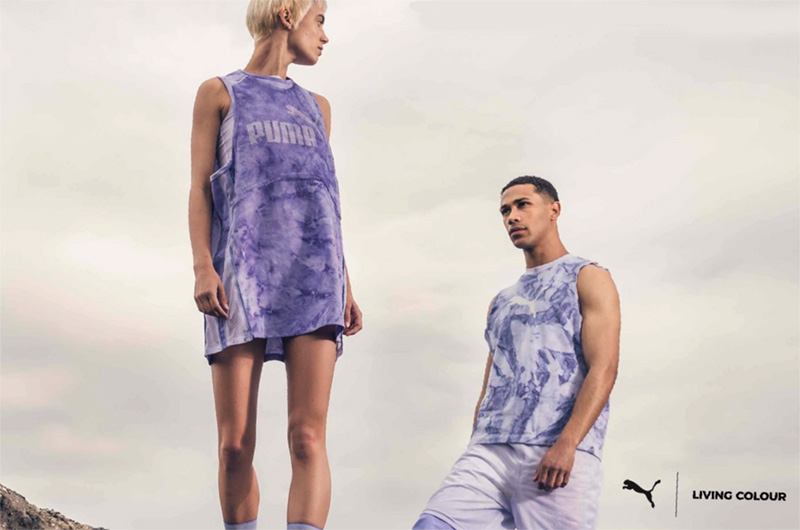 Additionally, the pieces use various fabrics, from sportswear specific to deadstock and peace silk, as well as hemp. Of course, all sustainably sourced.
This live colour theme is key to the growing natural aesthetic, with other small eco activewear brands and designers exploring plant-based colours and natural dying techniques. Dutch brand Bible is celebrating the idea of using actual colours by producing their pieces with natural shades of wool fibres.
In Conclusion
The time is right to experiment with sustainable, unisex designs and new dying technologies. As consumers demand greater sustainably made apparel. According to Google's recent consumer insight report; sustainability is now mainstream. It is no longer a London bubble led by urbanites. Bristol and Brighton lead the way as there is an increase in the "volume per capita growth of sustainability-related searches across the nation, in both urban and rural areas, big cities and small".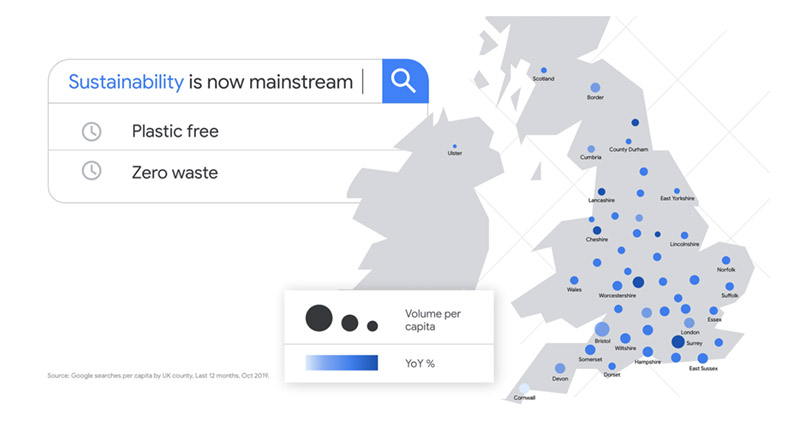 Brands need to become naturally active embrace kind materials, colours and lifestyles. As there is a growing cohered out there, which puts planetary well-being alongside personal wellness first. Unisex fashion is now also becoming the industry's buzzword and a symbol for inclusion and diversity. It is time for brands to build circularity into their business models and think green.
______________
About the author
Aleksandra Michniewicz specialises in copywriting and content creation for companies in a variety of industries like tech, lifestyle, fashion and finance.