eCommerce and the role of artificial intelligence
Posted 11th August 2020, by Cherry Adam
We have already talked about the advantages of using a personalisation platform like Recommend for optimising your eCommerce website. Our software is powered by artificial intelligence. This allows you to understand who your consumers are, what they do on your website, and to predict purchasing patterns. Also, AI helps you to keep your inventory, profits, and margins under control. For instance, our software takes product recommendation to the next level by displaying products that respond not only to the users' interests but also to availability and profit margins for your business.
Having artificial intelligence in your supply chain offers tangible benefits, especially now that consumers are shopping more online and the presence of personal in warehouses has decreased due to the pandemic. Recent research by McKinsey found that 61% of brands report a decrease in costs and 53% an increase in revenue as a direct result of the introduction of artificial intelligence. This technology is becoming a key player for eCommerce businesses. From personalisation to forecasting sales and purchase behaviours to the analysis of expenses, capabilities and the overall strategy.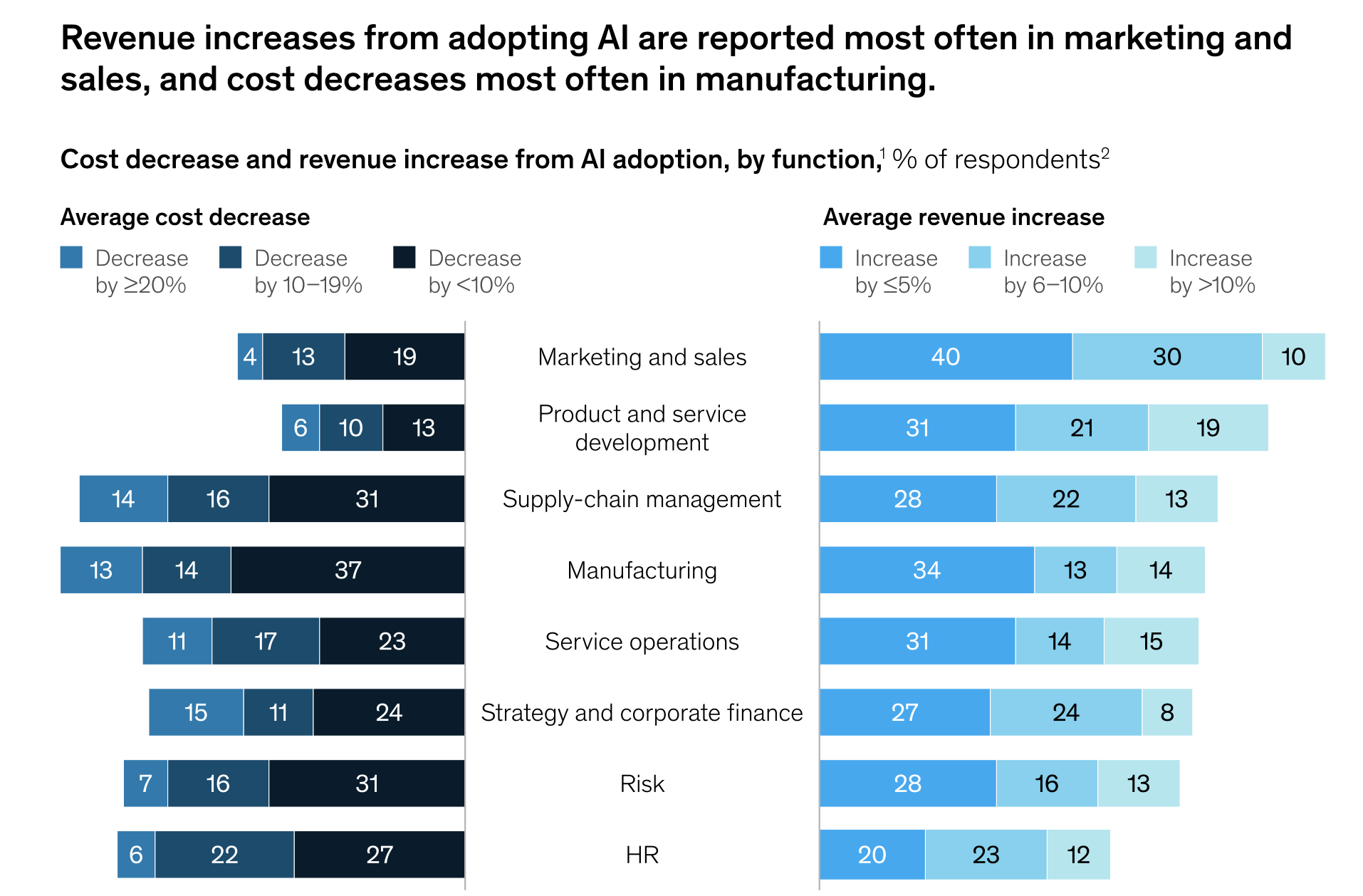 Adapt or lose clients in the attempt
AI is making a big difference in retail optimisations. According to a Capgemini report "the global annual spending on AI by retailers is estimated to reach 7.3 billion by 2022, all because AI offers new ways to improve the customer experience and to optimise operational efficiency and productivity."
Nowadays, maintaining the control of the inventory and the purchasing and shipping processes is possible with automation. Speed is critical, especially at times when responding to consumer needs is vital to keep your business afloat. Supply chains need to manage large product portfolios effectively. They also strive to meet customer expectations for multiple sizes, colours, and other variations in those product configurations.
How can you manage all this data and, at the same time, your marketing strategy? Thanks to "cognitive automation" applied by AI and Machine Learning algorithms. These technologies are capable of handling large amounts of data. Subsequently, they can predict patterns and generate recommendations on optimal actions to improve the speed of the supply chain, product merchandising and profitability.
Understanding your business
AI helps retailers understand how their business works through the use of predictive and prescriptive analytics. The gathering and analysis of information combined with business intelligence enable brands to more informed decision making. By using a platform like Recommend, your inventory and profitability will be easy to manage. But, most importantly, the relationship with your customers will be better and your revenue will increase thanks to personalisation.
"74% of respondents whose companies have adopted or plan to adopt AI, saying their organisations will increase their AI investment in the next three years."